The "EMW" group is one of the leading wine wholesalers in China. The company and Cool Japan Fund have embarked on their challenge to widely deliver Japanese sake to the Chinese market by adding a lineup of sake products to EMW's sales and distribution platform. Here is part 2 of an interview with Mr. Knight Hu, who is working hard as the representative in charge of sake at EMW Shanghai office. (Information is current as of November 2020.)

Click here to read Part I.
Carefully Tell the Story of Each Sake Brewery and the Brand One by One
Q. How did everyone react at the product info sessions throughout China this September?

Since sake has different tastes depending on the region, we held product info sessions in Shanghai, Guangzhou, Beijing, Chengdu, Chongqing, and Hong Kong to emphasize the diversity of sake. We chose various products from 6 famous Japanese brands that EMW currently handles in order to cater to everyone from beginners to seasoned drinkers.

In the first place, it is rare in China to be able to attract customers to a product info session only for sake, but 100 to 200 people participated in each event. We are not trying to sell to Chinese owners of Japanese "izakaya" who have been dealing with sake until now. The people we invited from our network are the owners of Western and Chinese restaurants, the owners of hotel bars, Michelin-starred chefs, and influencers whom EMW has provided wine. At those events, we promoted the understanding of not only the basic knowledge of sake but also the sake breweries' commitment and the story of each brand.

I thought that everyone's reaction and expression when they first tried sake was better than when they try wine. Many people seem to immediately think that sake is delicious, while often people have to get used to drinking wine in order to find it delicious. This is probably due to rice being the national staple food in China. Everyone was very interested in sake, and I was asked various questions about how it is made, the characteristics of each brand, and how to choose a bottle. At one event, I'd been answering questions for four hours before I realized it.

EMW arranged all these events including the venues and signboards, and the staff explaining sake were EMW employees. We made the most of our know-how in the fine wine market. As you can see from those photos, we used wine glasses for tasting instead of disposable cups. It was an indication that EMW would like to improve the image of the high-end sake market.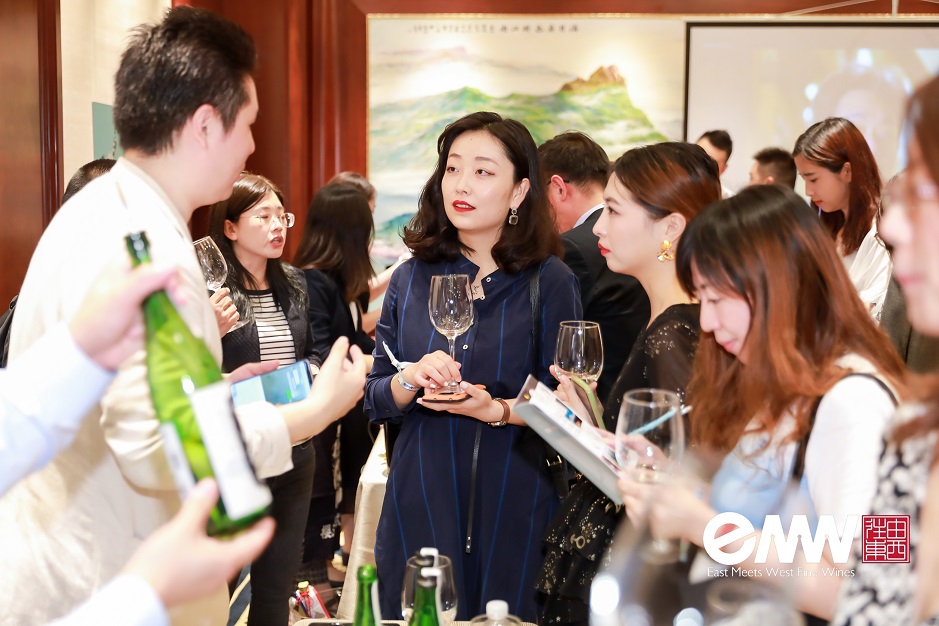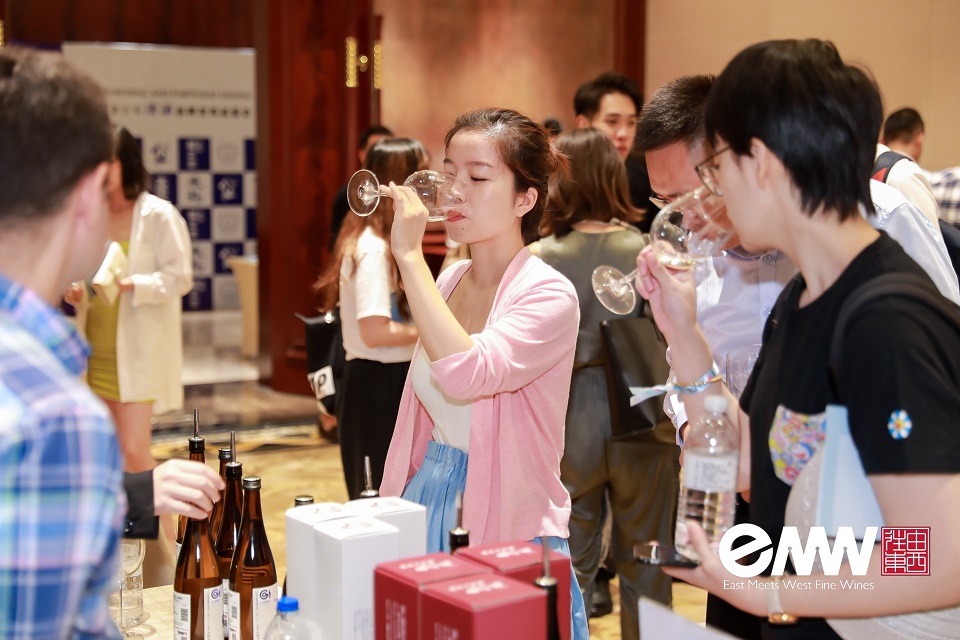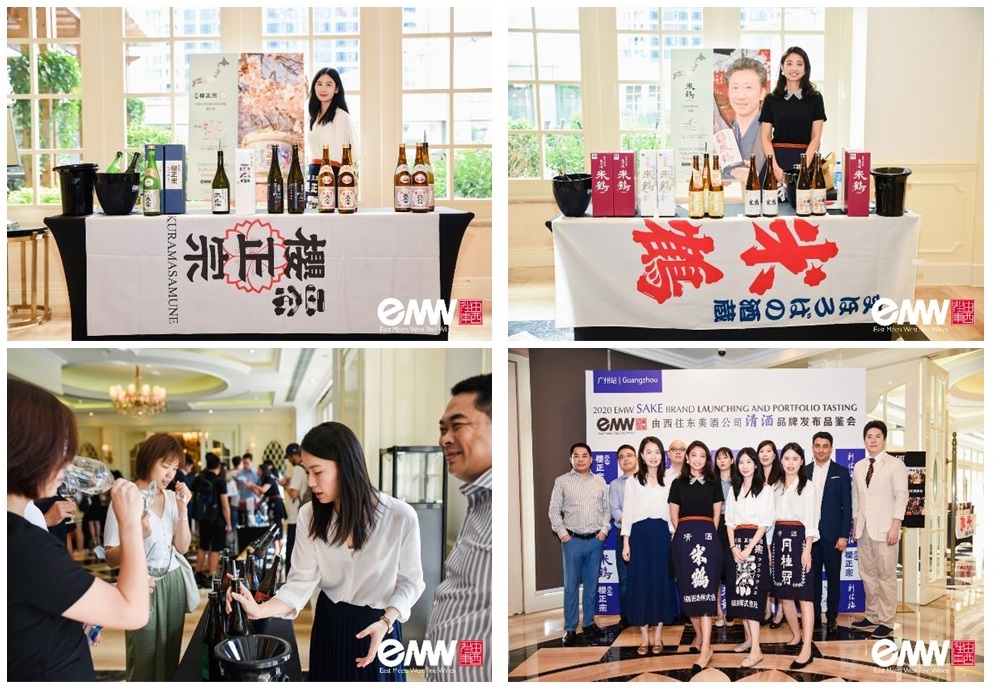 Q. I guess your job is to convey the charm of sake to Chinese consumers while carrying the passion of sake breweries, but how do you communicate with them?

I believe that I have been able to talk smoothly with the breweries of the 6 brands that I actually visited. They were already interested in exports and have global mindsets. On the other hand, I find it difficult to talk with some breweries who are not interested in exports and only think domestically in terms of the amount of production and consumption as they have popular brands in Japan. Although one of our strategies is to widen the range of brands we handle, even I, a Japanese speaker, am often turned away at the gate simply because I am Chinese.

I guess one of the reasons is that they don't have a good impression of exports to China in terms of quality control. Another reason can be that some breweries don't trust Chinese people to sell sake products in a proper manner and with great care. In reality, we thoroughly control the product quality by using refrigerated storage as well as special containers when we carry them from Japan. We also carefully explain sake at those events and deals, as I have already described. There is simply not enough mutual trust between the Japanese sake breweries and the Chinese sake market.

From that point of view, the cooperation with Cool Japan Fund has really helped me. When I say "I'm interested in this brand", the business development group, which have a network with local governments all over Japan, immediately contact the sake brewery directly and set up a meeting. Of the six brands, "Sakuramasamune" and "Takashimizu" were actually introduced to us by Cool Japan Fund. I am so grateful especially now that I cannot go directly to breweries due to COVID-19.
I Want to Make EMW a Company with a Deep Love for Sake
Q. What are the other issues, besides the lack of mutual trust, must be dealt with in order to expand the sake market in China?

Sake has the image of a luxury item while the number of affordable wines has increased. Most sake consumers are in their 30s or older with stable incomes. The tariff on sake is 40% in mainland China and the purchase price at retail stores is about twice as high as that in Japan. When it comes to the retail price to consumers, it is more than three times.

It is unavoidable that the price is high due to tariffs, however the problem is that people have so little knowledge about sake so they wonder whether the sake is really worth the price. When people have more knowledge about wine, they can accept the value of luxury products and buy them. From now on, it will be important to properly explain why sake is that expensive. For example, just explaining how precious the rice they are made from will make a difference.

We aim to create a world where people can enjoy sake in the same way as wine, for instance by pairing it with Chinese food or by being able to choose from a wide price range. Eventually, we aim to sell luxury sake products for tens of thousands of yen. We often see those kinds of wine on the market, but we cannot realize this in just one night. People will get interested in expensive sake after starting with affordable ones first and growing to understand the taste of it. I would like to work on creating more spaces for people to try sake and create a high-end sake market.

We need to consider promotional methods. I feel the number of sake promotional videos is increasing on the platform "Tik Tok" which is popular among Chinese young people. At EMW, we post articles about the knowledge and story of sake brands and breweries on China's representative social media site, "Weibo". Through these promotional activities, we aim to make young people willing to buy and try sake with their friends on special occasions.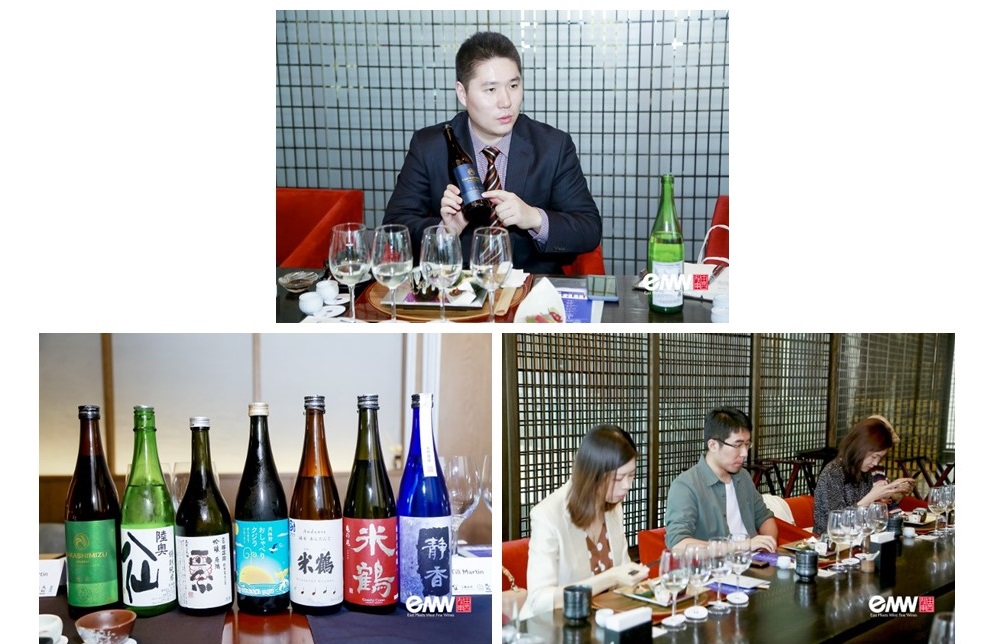 Q. Please tell us about your future dreams and goals.

My biggest dream is for sake to penetrate the daily lives of Chinese people. Through drink pairings, I want people to drink sake in various scenes, at home and in restaurants, and to pair it with various cuisines other than Japanese. China has become the second biggest sake-import market following the U.S., but I believe that the day when China will become no.1 is surely coming.

However, I don't think that EMW should import and sell huge amounts of sake and handle them simply as products. I want to make EMW a company with a deep love for sake. In order to realize that, it will be important for us to convey the thoughts of Japanese breweries to the Chinese market by visiting them, meeting the employees, and accepting their feelings. The founder of EMW grew up at a winery. All EMW employees shall take great care in delivering the ideas and thoughts of sake makers to each Chinese consumer.

There are a lot of wonderful sake breweries in Japan, and the most important thing I would like to tell Chinese people is that they are taking care of every detail when creating sake. Their delicate way of working is what impresses me most. Therefore, I want to boost the number of Chinese sake fans by expanding the value of their products. I want to treasure every encounter between Chinese consumers and Japanese sake breweries. Instead of just selling sake, I will deliver it as a part of Japanese culture to the market. That is my job and will continue to be my future goal.
(The End)